Planned Breedings
Multi-V rated, A.I.R.K. Youth Seiger (2006)
KONNENSTOLTZ SETH VON DIK
Best Adult Male in Show
of
MileStone Rottweilers

D.O.B. 11/20/04
H/D FREE, E/D FREE
Elbows Normal :: Cardiac Good
OFA Hips RO-67602F24M-PI :: CERF SC-726N
HT: 67cm / wt: 61 kg
Eye: 1A

(Dik V Haus Milsped X Konnnestoltz Gracie)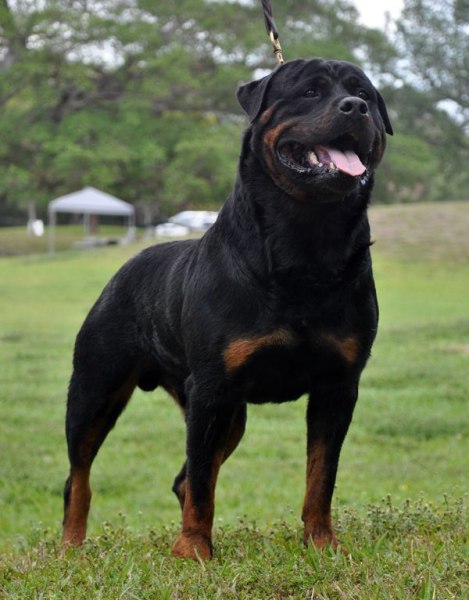 Currently offered at Stud to approved bitches.

2012 ARV National Seiger show: V2/ Judge: Mick Svaljeck, FCI Australia
2012 ARV Regional Seiger show: V2/ Judge: Lydia Mihajlovic, FCI Serbia
2011 AIRK Southeastern-Atlantic Rottweiler Klub show: V1/ Judge: Dusko Pejovic-Barni, FCI
2006 AIRK Mid-Atlantic Rottweiler Klub show: SG1 (18-24 mos) and Youth Seiger overall/ Judge: Bill Alexander
2006 USRC/Central Florida Rottweiler Klub show: SG2 (12-18 mos)/ Judge: Hans-Juergen Radtke
2005 USRC/Bluegrass Working Rottweiler Club show: VP2 (9-12 mos)/ Judge: Erich Koenigsberger
2005 AIRK East Tennessee Rottweiler Klub show: VP1 (4-6 mos) and Best Puppy overall/ Judge: Josef Hedl
2005 AIRK Eastern Carolina Rottweiler Klub show: VP1 (4-6 mos)/ Judge: Bianka Miksic Kasun

Konnenstoltz Seth Von Dik is a proven show stopper that we have raised in a family environment from a pup. His temperament was the reason his litter was bred and it is the first and foremost important quality of this male and our beloved breed. He is wary of any strangers, yet lovingly devoted to his family……willing to protect us with his life if necessary. I have yet to ever question his judgment of visitors to our home, he accepts whomever we as his family deem as ok.

His pedigree is impeccable and his dimensions are a direct reflection of his genealogy. Seth stands at an impressive 67cm at the shoulder, tips the scale at a solid 61kg, possesses a topline others could only wish for, brings enough bone, head, and substance for two average-sized Rottweilers, and moves it all with an impressive reach and drive for a dog of his stature. His pigment, like his father (Konnenstoltz Dik Vom Haus Milsped), is coal black in color and has been since a pup. Seth possesses what has been referred to as "What our breed is missing and is unfortunately losing at an alarming rate!!" Seth is beyond any shadow of a doubt, an "Old-School male Rottweiler." (Mick Svaljeck, FCI Australia). "A PURE POWERHOUSE!!" (Josef Hedl)

Please feel free to review the following pages and information about this truly unique dog. Throughout his Sieger-Style show career, he has never placed lower than 2nd and has received countless ratings of V-1 from multiple variations of judges all over America.
Pedigree for KONNENSTOLTZ SETH VON DIK
Sire
DIK V HAUS MILSPED IPO I BH ZTP
Sire
BLACK OD DRAGICEVICA
3xBOB 6xCAC CHJ YU
2xCACIB IPO-1 CH YU
Sire
MORRO VOM HAUSE MARKER CHYU CHHR, EDO ZTP SCHH1 VDH-ES INT CH OBS HD-0
Dam
HERA OD DRAGICEVICA
INT CH 3xCAC CHJ YU IPO-1 7xCACIB HD-frei ED-frei
Dam
BETA VON SIKI ROTTWEILER
Sire
BARNI CH YU M CH YU ISP-1 V5 ADRK BIS 7xPRM 22xCAC 3xR CACIB 2x CACIB 11xBOB
Dam
BESSY VON SIKI ROTTWEILER
Dam
UKC/UCI Int. CH. V1 KONNENSTOLTZ GRACIE
Sire
Multi V-1, Multi BISS, A/C CH Von Boylan Antonio Banderas SchHIII
BST, AD, BH, TT, CGC
Sire
Multi V-1, ARV Sieger Am CH Cassius Lad SchH III, BH, AD, BST, CGC, ZtP, Körung, RO-41685G
Dam
Select CH Fine's Ciara von Covenant CD, RTD, RO-405926 RO-EL1350
Dam
Int CH Multi V-1 Siegerin Konnenstoltz Electra
BH AD ZtP
Sire
'93 ARV Nat'l Sieger,'94 ARV Nat'l SchH CH Jeneck's Wotan SchH III, IPO III, FH, AD, Korung, ZtP, RO-34654G
Dam
'95 ARV Siegerin, Multi V-1 Konnenstoltz Schlecht Hundin SchH I, BH, AD, WH
For more information contact;
Dennis Posey :: MileStone Kennels :: (321) 295-3979 :: mskrottz@gmail.com
MileStone Kennels is located in Central Florida.